Heavenly Hooves - Where interactions with and riding of horses creates joy, accomplishment and healing.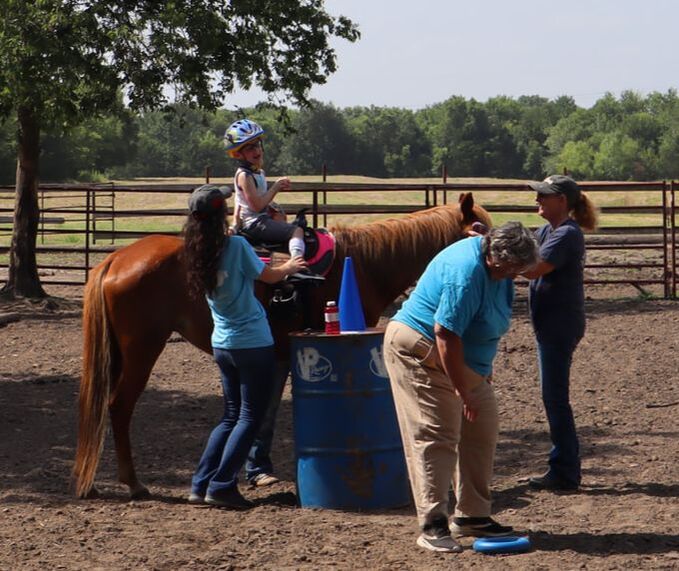 Our Mission is to provide a caring and therapeutic environment with quality service in which our Christian values and beliefs are incorporated. Our Equine Assisted Healthcare programs serve individuals with physical, psychological, or emotional diagnosis Free of Charge. There is currently a waiting list for our services. Sessions are once a week for 8-12 weeks semesters.



We are an approved 501(c)3 Public charity!

Heavenly Hooves provides equine-assisted healthcare programs.

Students participate, to their own ability, in leading, grooming, and saddling the horse/pony. Then they spend the remainder of the hour on the horse with their certified riding instructor guiding and their parent or volunteer walking at their side. Time on the horse is not like recreational riding, as students are at different levels of physical ability or emotional comfort. Riding may consist of simple walking, stopping and turning and may progress to activities such as trotting and maneuvering within the round pen, cantering and even jumping.

All riders will have an individualized lesson plan created from the SpiritHorse method of 96 steps to help riders achieve goals set by the parents and referring specialists.

We try to match each student with a pony/horse that can adequately carry the weight but is of a size where the student is on its eye level. As "the eyes are the window to the soul," we want the student to be able to see through this window and feel the beautiful spirit of the horse so that they may experience that love and understanding. Due to our horses available, many are taller than what we would pick for this benefit, yet these horses know what each student needs and will lower their heads to greet them! In addition, we match students and horse personalities!

Children with any diagnosis of a physical, emotional or psychological disorder, or at-risk youth are eligible for our program services. We provide these services Free of Charge to these riders.

---
Heavenly Hooves Ranch is committed to establishing and providing
programs
for
children and adults who suffer from a variety of emotional and psychological issues.
In Addition, we will be focused toward providing quality programs for troubled youth.
All programs/sessions for individuals with a medical/psychological diagnosis and approval from their physician will be FREE to the client(s) and their family.
(Additional requirements specified in program contract)
We are in the process of training, building necessary additional shelters and fences. Any ideas, suggestions or assistance is very much appreciated. Please email me with any comments you might have.
As with most, we always need supplies for fences, sheds, additional lumber, portable corrals, ect...
And Money.
We are a Licensed Spirit Horse Center and have our
Non-Profit 501(c)3
status APPROVED
Heavenly Hooves Therapeutic & Recreational Riding Center was founded and will be ran according to our Christian beliefs and values.
Proverbs 3:5-6
Trust in the Lord with all your heart,
And lean not on your own understanding;
In all your ways acknowledge Him,
And He shall direct your paths.
---
---
Sign up for our Newsletter and Updates